Homeopathy Medicines
To decrease the amount of pain and swelling after dental surgery I would like you to take homeopathic medications:
Arnica montana 12 C and Cheiranthus cheiri 9 C
Dissolve 5 pellets under your tongue 3 times a day. Wait approximately 10 minutes in between each medicine (ex. dissolve 5 pellets of Arnica under your tongue and 10 minutes later dissolve 5 pellets of Cheiranthus).
These medicines should be started 2 days before your procedure. Continue the medication until the swelling has resolved.
What is homeopathy?
Homeopathy is a therapeutic method that uses natural substances that have been diluted to relieve symptoms. They are safe and reliable drugs that have been used for over 200 years and have been regulated by the FDA since 1938. They are manufactured in strict accordance with drug GMP (Good Manufacturing Practices.
The level of dilution (ex. 9c or 30C) does not correspond to strength rather it corresponds to the level of action. 6C or 9C is used for local symptoms where 15C or 30C is used for more general action.
The medication can be taken in conjunction with other medications.
How to take homeopathic medication:
Homeopathic medication is best taken apart from meals in a mouth free of strong flavors especially mints.
It is administered under the tongue and usually takes several minutes to dissolve.
The medication comes in multi-dose tubes. First pull the tab on the tube. Turn the tube upside down and twist the dispenser until 5 pellets have fallen into the cap. Carefully remove the cap. Use the cap to pour the pellets under your tongue and allow them to dissolve.
Improvements are usually seen quite rapidly, particularly in acute conditions and when treatment is started at the onset of symptoms.
Pellets contain sugar and lactose (milk sugar). 5 pellets taken 4 times a day (20 pellets) contain 1 gram of sugar (or 1/5 of a teaspoon).
Before You Visit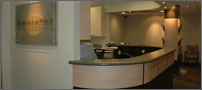 If you are coming in for a consult, x-rays are usually needed. Your dentist may supply them or we may need to take additional pictures depending on your particular consult. Read more...
Links of interest